What are the duties and responsibilities of a teacher?
The duties of a teacher extend much further beyond standing at the front of a classroom and delivering lessons.
Behind the scenes, a lot of work goes into planning and preparing for lessons and providing additional support to students.
A good teacher may also make a positive impact on students, often becoming a source of inspiration and motivation.
If you're considering a career in teaching, then you should first find out a little more about the role and responsibilities of a teacher to ensure that this career path is a good fit for you.
The role of a teacher
Teachers use a variety of teaching methods and materials to educate students about a particular subject area, providing specialist knowledge on this topic.
A good teacher will support students individually as well as providing engaging lessons that bring their subject to life, to inspire and motivate their students to do well.
The responsibilities of a teacher
Teachers put in a lot of work outside of lessons to ensure that they are providing an engaging learning environment and supporting students.
The responsibilities of a teacher will vary slightly depending on the level that they're teaching at, the subject they're teaching, and the educational setting that they're teaching in.
However, some key responsibilities of a teacher include:
Planning and preparing lessons
This can include a lot of work, especially if you're new to the role and haven't taught the subject or students before. A good place to start when planning or preparing for a lesson is to get to know your students and their preferred learning styles and find out how much they already know about the subject. This will help to guide you when deciding the aim and objectives of each lesson and the best activities and resources to use.
Encouraging student participation
Students tend to become more engaged and learn more during lessons when participation is actively encouraged. Teachers should incorporate different techniques into lessons to help create a learning environment that encourages students to have a voice and participate.
Researching and developing new teaching materials
As well as planning lessons, teachers are required to research and source appropriate teaching materials to complement the contents of the lesson. This includes both materials that will be used during the lesson and information to take home and revise from.
Research and implementing new teaching methods
Choosing the right teaching methods is key to effective teaching. When selecting a teaching method, the factors that you should consider are:
Teaching objectives
Your audience
Subject matter
Student's background knowledge
Marking student work and recording performance
Teachers should keep a record of student grades so that they have some indication of what level they're working at and the progress of their performance over time. Keeping track of student performance can also help teachers to improve their teaching by indicating which methods of teaching have been most effective and where further time and resources need to be invested.
Setting assessments and overseeing examinations
Assessments and exams monitor student performance and assess what they have learnt. Exams can prove a student's level of competence in any given subject and also show teachers which areas students are finding most difficult to understand.
Providing learners with one-to-one support
As well as teaching full classes, teachers are also responsible for providing one-to-one support to students when required. This could involve acting as your students' personal tutor or helping students to arrange any additional support they may require with their learning.
Open days or other events
Depending on the kind of educational organisation that you work for, you may occasionally be required to represent the organisation or your department at open days for prospective students or trade events.
Furthering your own learning and professional development
New teaching methods and techniques are being created all the time and it's a teacher's responsibility to stay up-to-date with the most effective resources and techniques available to help them deliver engaging lessons.
Communicating effectively with other teachers and educational organisations
Being able to communicate effectively with other teachers and educational organisations can help teachers to work together and collaborate to provide a more joined-up, engaging, and effective learning environment for students.
Administrative tasks
As with most jobs, teaching doesn't come without admin. Some of the administrative tasks you may be required to complete regularly include:
Printing or photocopying resources for lessons.
Word processing documents for lessons.
Setting up IT equipment.
Ordering equipment and resources.
Keeping and filing records.
This list of responsibilities is in no way exhaustive as teaching is such a multifaceted role. It's also worth noting that there are key differences in the responsibilities of a teacher depending on whether they are teaching in a school or a higher education setting.
Level 3 teaching qualifications
Completing a level 3 teaching qualification will provide you with further knowledge about the role and responsibilities of a teacher and equip you with all the basic skills you require for the job.
What is a level 3 teaching qualification? Find out more here .
Ready to book your place on a level 3 teaching qualification? Here at Care Business Associate Training (CBAT), we offer a popular Qualsafe level 3 course in education and training.
The course is suitable for anyone who would like to work as a teacher or trainer in a higher education setting and can either be taken in-person or online in a virtual classroom.
Browse our full range of courses online or book your place on the course today by giving our team a call on 01772 816 922 or emailing [email protected] .
" * " indicates required fields
Job Descriptions
Education and Training Job Descriptions
Teacher Job Description
A teacher is responsible for preparing lesson plans and educating students at all levels. Their duties include assigning homework, grading tests, and documenting progress. Teachers must be able to instruct in a variety of subjects and reach students with engaging lesson plans.
Teacher Job Description Template
We are on the hunt for a self-motivated and experienced teacher to join our qualified team of educators. As a teacher, you will be responsible for cultivating the students' interest in education and development. Your responsibilities will include grading assignments, evaluating students' progress, and planning educational activities.
You should be a competent professional with in-depth knowledge of teaching best practices and legal educational processes. In addition to having excellent written and verbal communication skills, our ideal candidate will also demonstrate outstanding presentation and interpersonal abilities.
Teacher Responsibilities:
Developing and issuing educational content including notes, tests, and assignments.
Supervising classes to ensure all students are learning in a safe and productive environment.
Organizing supplies and resources for lectures and presentations.
Delivering personalized instruction to each student by encouraging interactive learning.
Planning and implementing educational activities and events.
Ensuring your classroom is clean and orderly.
Preparing and distributing periodic progress reports and semester report cards.
Attending parent-teacher meetings.
Evaluating and documenting students' progress.
Allocating and grading homework, assignments, and tests.
Teacher Requirements:
Bachelor's degree in teaching or relevant field.
A minimum of 2 years experience as a teacher.
In-depth knowledge of teaching methods and legal educational procedures.
Outstanding written and verbal communication skills.
Well-organized with excellent leadership abilities.
Exceptional interpersonal and presentation skills.
Related Articles:
Teacher interview questions, elementary school teacher job description, elementary school teacher interview questions, substitute teacher job description, substitute teacher interview questions, how to find teachers.

Trauma-Informed Practices in Schools
Teacher well-being, cultivating diversity, equity, & inclusion, integrating technology in the classroom, social-emotional development, covid-19 resources, invest in resilience: summer toolkit, civics & resilience, all toolkits, degree programs, trauma-informed professional development, teacher licensure & certification, how to become - career information, classroom management, instructional design, lifestyle & self-care, online higher ed teaching, current events, 5 roles for a teacher leader.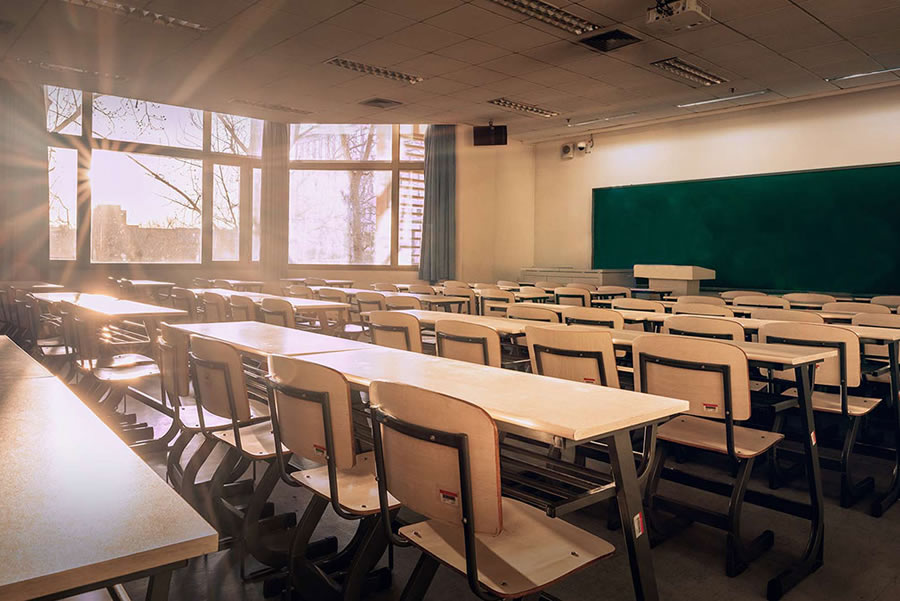 A teacher is the force that drives the educational system in the United States. They are the ones who interact with students and have to deal with the parents.
A teacher often has many roles to play. A teacher leader role is one that needs to be embraced if he or she wants to function effectively in the classroom.
5 roles that a teacher must fill
Here are five roles that a teacher often has to fill in order to be the best educator they can be.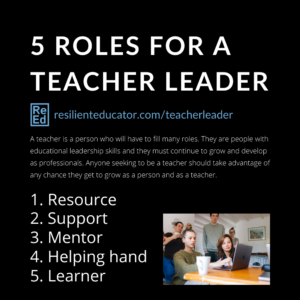 1. Resource
One of the top roles a teacher must fill is that of a resource specialists. There will be many people who will come to the teacher seeking information. Even if the person is only seeking a source of information, the teacher is the one who must know how to find what the student is looking for.
Once the teacher has given the information to the student or coworker, he or she will often have to instruct the student on how to use the information.
Students are the ones who need support when learning a new skill or piece of information. A teacher must act as the support person when the student needs this help. Support can come in many forms such as a coach, leader and even a counselor. In professional circles, a teacher may even have to support other teachers leading a particular subject matter.
One of the biggest roles a teacher may have is that of a mentor. Students look up to teachers and may pattern their own behavior and work ethic to match the instructor. An older teacher can even be a mentor to a younger teacher who is just starting out in the profession.
4. Helping hand
A leader in a school is a person who takes on extra tasks such as leading the PTA meetings and even helping set up a gym for a big event. Teachers who are active in the school will often have more jobs than just the one they were hired to perform. Often, the goals of the teacher will match the direction that the school is taking.
One last important role a teacher must fill is that of a learner. Anyone who has been involved in a profession long enough knows that there is always something new to learn. A learner is a person who is always growing in life and will never claim that they know it all. A teacher will be challenged everyday with a new task that will help them grow into a better person.
A teacher is a person who will have to fill many roles. They are people with educational leadership skills and they must continue to grow and develop as professionals. Anyone seeking to be a teacher should take advantage of any chance they get to grow as a person and as a teacher.
You may also like to read
Teacher Appreciation Week: Profiles of 3 Inspiring Teachers
When School Leadership Changes
Teaching License Reciprocity Explained
6 Quotes for Teacher Mentors
A Teacher's Role in Bullying Prevention
Tips for Better Classroom Management
Categorized as: Tips for Teachers and Classroom Resources
Tagged as: Leadership and Administration , Mid-Career Teacher , New Teacher , Veteran Teacher
PhD Programs for Education
Certificates in Trauma-Informed Education and...
Master's in Reading and Literacy Education
Important Daily Teaching Tasks
Tips & Strategies
An Introduction to Teaching
Policies & Discipline
Community Involvement
School Administration
Technology in the Classroom
Teaching Adult Learners
Issues In Education
Teaching Resources
Becoming A Teacher
Assessments & Tests
Elementary Education
Secondary Education
Special Education
Homeschooling
M.Ed., Curriculum and Instruction, University of Florida
B.A., History, University of Florida
Almost every task that a teacher is expected to perform on a daily basis falls into one of six categories. Some of these duties—such as lesson planning, classroom management, and assessment—are so critical that they are used by teacher assessment tools to evaluate teacher effectiveness. Others are more basic organizational and operational chores.
If you are just starting out or considering teaching, it helps to know what your responsibilities will include. Find out whether there are any additional school-specific duties that you will be expected to take on as well.
Here are the six main categories of teaching duties.
Planning, Developing, and Organizing Instruction
Lesson planning is a critical aspect of teaching that often happens days before a lesson is taught. Planning, developing and organizing instruction are some of the biggest duties of the job.
When you plan lessons effectively, day-to-day teaching tasks become much easier and more successful. Many teachers feel that they do not have time to dedicate to careful lesson planning. If this is true for you, know that lesson planning is worth the effort because it simplifies your teaching in the long run.
Implementing Assessment
Assessment should take place in your classroom every day, whether it is formative or summative. You will not be able to tell if your instruction is working if you don't regularly test student comprehension. As you sit down to develop a lesson, you need to also include systems for measuring how well students have achieved its learning goals. Do the same for entire units and subjects.
Assessments are not only a measure of your success as a teacher but a tool to be used for exceptional planning. Reflect on your assessments and study their results to determine how you should proceed after a lesson—are there students you need to meet with? Is the whole class ready to move on?
Researching the Newest Teaching Methods
An often-overlooked teaching task that makes all the difference between a good teacher and a great one is research. Teachers must make determinations about what will best suit their classroom in terms of lesson delivery, accommodations and modifications for differently-abled students, student work structures, and more.
In order to make informed decisions about these, effective teachers research often and remain open-minded. You must keep up on the latest developments and look for new tools for your teaching arsenal that will improve your teaching practice.
Classroom Management
Many new teachers find this area of teaching most intimidating. But with a couple of tools and a little practice using them, you can create a practical classroom management policy to help you keep your classroom under control.
A firm discipline policy is a great place to start. Post rules for student conduct—and the consequences of breaking them—somewhere in the classroom for all to see. Fairly and consistently enforce these to establish a functional system of classroom management.
Other Professional Obligations
Every teacher must meet certain professional obligations depending on their school, district, state, and area of certification. These range from menial tasks such as hall duty during a planning period or after school to more involved tasks like those needed to meet requirements for recertification (professional development, college courses, etc.).
Teachers can also go above and beyond to sponsor a club, chair a committee, or even host after-school study sessions in their classroom. While these are usually not required, they are often highly encouraged sacrifices.
For many teachers, the abundance of paperwork that comes with the job is the most annoying part. To have to spend time taking attendance, recording grades, making copies, and documenting student progress are all necessary evils. These housekeeping and recordkeeping tasks are just part of the job description.
Regardless of how you feel about them, how you handle these tasks says a lot about your organizational skills. Put systems in place to make these tedious processes more efficient so that you will be able to spend more time teaching and interacting with students and less time doing paperwork.
Pros and Cons of Teaching
Seven Strategies to Provide Help for Teachers
Preparing a Dynamic Lesson Plan
A Complete Guide to First-Year Teaching
Strategies for Teachers: The Power of Preparation and Planning
Teacher Interview Questions and Suggested Answers
What Is the Role of a Teacher?
What Teachers Do Beyond the Classroom When No One Is Looking
Components of a Well-Written Lesson Plan
10 New Year's Resolutions for Teachers
Teacher Housekeeping Tasks
How Teachers Can Build a Trusting Relationship With Their Principal
Building an Effective Classroom
Helpful Classroom Management Strategies Every Teacher Should Try
Back to School Checklist for Teachers
10 Questions to Ask Yourself to Design Your Educational Philosophy
By clicking "Accept All Cookies", you agree to the storing of cookies on your device to enhance site navigation, analyze site usage, and assist in our marketing efforts.
Roles and Responsibilities Of A Teacher
Table of Content
A teacher can serve as a coach, club sponsor, tutor, or counselor outside the classroom. The roles and responsibilities of a teacher outside the school are in no way less than her responsibilities inside the classroom. Discussing these duties of a teache r is essential because teachers play numerous roles in a student's life that help students move on the right path and build their personalities. 
This blog talks about the different roles and responsibilities of a teacher , such as mentoring, leadership, collaboration, etc. 
Different roles of a teacher
Teachers are a very important contributor and part of society. They have the responsibility of molding the future generation. Apart from educating students and helping them achieve their goals, there are important roles teachers play in the lives of every student. Such as:
1. Counselor
Being able to counsel your students properly is one of the most important roles and responsibilities of a teacher . The role of teachers as counselors comes naturally to most teachers.
Most schools employ counselors to deal with problems and non-academic issues that affect a student's academic development. However, a lot of teachers themselves volunteer as student counselors. 
Typically, this is because students feel more at ease confiding in a teacher they already like than the school counselor. A class teacher spends a lot of time with kids in the classroom. Thus they might be the first to notice an issue the student might be dealing with and need some help. 
Learn how to shape young minds for a bright future. Give us a chance to connect with you!
2. Facilitator
In the entire teaching-learning process, there are many roles and responsibilities of a teacher   that plays a crucial role. After all is said and done, the teacher is still the one who can make education the most valuable human endeavor. 
Being a facilitator to your students will help them give encouragement to those students who lack self-assurance, reassure those who are shy, not reject but divert an answer, aid in the search for solutions, and allow the opportunity to build on ideas and share personal experiences.
3. Collaborator
In a collaborative learning strategy, two or more people work together to comprehend a shared learning topic and finish a shared assignment. To complete the goal, they rely on one other's resources, knowledge, and abilities.
Joint accountability exists for obligations and mistakes if any. They work individually on various parameters while assessing one another's work to raise the caliber of the final product.
4. Delegator
A teacher is a person who distributes the responsibilities among the students and overviews the functioning of the class. Teachers, as delegators, don't get too involved in the class. Rather they let the students have ownership of the tasks.
Delegation is one of the major roles of a teacher . These types of roles and responsibilities of a teacher are best suitable for group activities and subjects that require teamwork. 
5. Role As A Club Patron
Beyond classroom teaching, some teachers volunteer to work as club sponsors. This is logical in certain cases as the course assignments of their teaching profession are a logical extension of the club.
Also read: Tips For Creating Assignment For Students
For instance, the fine arts teacher might be the best guide for an art exhibition, and the business teacher might be the right person to support students with their startup ideas.
A math class teacher will best guide the math team, and a science teacher will play an important role in the innovation club. Besides, students are already comfortable with their teachers. Hence, club activities will be fun for them.
6. A Resource
Teachers are the biggest resources for students. Teachers are like a library to students. They are the resource for every information. The information passed by the teacher is very trusting for the students.
For the students, the teacher is like a help to get them past the hurdles they face while studying, and this builds the trust of students in the teacher.
List of responsibilities of a teacher
The role of teachers in the classroom is extremely varied. She has to serve as a teacher, mentor, critic, counselor, motivator, and sometimes a friend in the classroom. The roles and responsibilities of a teacher can, however, go beyond the classroom. To foster the growth of a strong relationship with students or for other reasons, many teachers take responsibility outside the classroom.
1. Planning
One of the biggest roles and responsibilities of a teacher is to plan and prepare lesson plans and prepare for their lectures, the study material, the activities, and everything that is important to be planned before the actual lecture is delivered in the classroom.
2. Assessing student progress and participation
Not every student is so open to participating in every new thing or trying a new activity. This becomes one of the most important roles and responsibilities of teachers to encourage students to participate and try to explore every activity, learn new things, and understand what they like and dislike.
Keeping track of your student's progress will help you provide them with proper guidance whenever needed.
3. Providing feedback
roles and responsibilities of a teacher . The most effective teaching and learning technique is feedback. Feedback helps in providing proper instructions to students, thereby helping them to better their learning process.
It helps in assisting them in understanding the subject they are studying. Giving and taking feedback on a regular basis helps both students and teachers to improve their performance every day.
4. Maintaining classroom discipline
Having a disciplined classroom environment leads to positive outcomes. To make your teaching more effective, it is important to have a disciplined classroom.
5. Responsibility for improving their teaching
Each student has a particular personality and requirements of his own. Teachers have to constantly change their teaching methods to address their needs.
Precisely adapting their teaching styles to meet each student's skills and shortcomings takes a lot of time and work. Effective teaching requires the use of instructional tactics.
What is the importance of classroom management?
What initially occurs to you when you hear about classroom management? Classroom management refers to creating an environment for your students that helps them grow and learn effectively. With proper management of your classroom, you can engage your students well in learning.
The key elements of effective classroom management are:
Establishing rules and routines
Creating a positive learning environment
Using appropriate disciplinary measures
Having good communication skills for teaching
Fostering students accountability
Encouraging students to learn new things
Having regular feedback sessions with your students
Adapting to good instructional strategies
Establishing clear learning goals
To wrap up
Teachers have an important role and contribution to society. Apart from preparing and delivering effective classes, they are in charge of measuring and evaluating students' progress.
Being an instructor, counselor, collaborator, etc., all at once makes a significant difference in the lives of their students. Therefore it is important to understand the roles and responsibilities of a teacher to deliver a better learning and teaching experience. 
Get your own app in a minute! Hold live sessions, sell courses, and track student progress easily. Want to know more? Take a FREE demo now !
Roles and Responsibilities of a Teacher FAQs
A1. The responsibility of a teacher towards their students is to evaluate their strengths and weaknesses and guide them in the right direction. 
A2. The most important roles of a teacher in the classroom are providing mentorship, inspiring learners, researching learning strategies, and many more. 
A3. The prime responsibility of a teacher is to teach students and help them grow their academic knowledge. 
A4. Some of the most important duties of a teacher are assigning work, grading papers, documenting progress, and keeping up with the parents. 
A5. The role of a teacher as a role model is to inspire the students to recognize and achieve their highest potential. 
Blogger by passion and teacher by profession. I like to share my experiences as an online teacher through my blogs.
Online Growth
Online Teaching
Tips and Tricks
6 minute read
Make money as a food blogger : Strategies for Content Creators
November 30, 2023
Popular Posts
ChatGPT for Educators: 7 Ways to Use ChatGPT
How Much Do YouTubers Make in a Month?
November 14, 2023
5 minute read
How to Find Topics for YouTube Videos in Easy Steps
Master of Arts in Teaching Guide
5 Tasks of a Resource Room Teacher
If you happen to have a personality that makes you a particularly patient and understanding student who is also interested in becoming a teacher, then you may want to consider becoming a resource room teacher. This career choice will allow you to truly make a difference in the lives of children and youth who are dealing with a wide range of disabilities, and here are just a few of the tasks that you may expect to perform when you choose this career path.
1. Individualized Education Plans
It's the responsibility of the resource room teacher to create a personalized education plan for each student in the class. The unique needs of each student must be taken into consideration, and you'll have the input of school administrators, the parents or guardian of the student, other teachers who work closely with the student and any pertinent medical professionals to assist you in creating a workable plan. Throughout the school year, this plan must be reviewed regularly and necessary changes made to ensure the best learning environment and greatest chance of success for the student.
2. Daily Lesson Plans
Even though your students haven't been mainstreamed into regular classes, that doesn't mean that they shouldn't be learning from the same curriculum. You'll be expected to teach the core subjects in a way that your students may understand and learn from the experience. This may include utilizing hands-on methods and various other manipulations to teach simple concepts that can then be incorporated into a better understanding of the subject. Many schools provide paraprofessionals to assist with the various teaching methods that must be used to serve each student.
3. Personal Behavior and Life Skills
As a resource room teacher, you may be expected to teach children with mild to moderate disabilities or those with much more significant cognitive disabilities. Because you will become a trusted, familiar person who your students will see most every day, it will often fall to you to also teach a bit about appropriate personal behavior and various life skills along with the regular curriculum. This may include such important fundamentals as communication techniques, socialization skills and various behavior-modification techniques.
4. Daily Evaluations
Many children with special needs tend to have low expectations for themselves and have often developed clever ways to avoid responsibility. It will be up to you to carefully monitor each of your students every day to ensure that they are actively working towards learning the lessons that they are given. If a student is unable to do the work that you've provided, then you'll need to take steps to review the subject matter to get them back up to speed.
5. Motivational Counseling
As a resource room teacher, you're the person who can motivate your students to learn and succeed at their highest potential. Instead of feeling like a failure because of their disabilities, it's up to you to ensure that each child leaves your classroom feeling like a winning individual. This can be accomplished in a variety of ways that include utilizing a board that highlights the daily achievements of each student or ensuring that each child meets at least one new goal on a regular basis.
Teaching children with special needs in order to help them reach their full potential can be extraordinarily rewarding work, and this may just be the perfect career choice for you. According to the Bureau of Labor Statistics, you may expect to earn nearly $60,000 a year with summers off when you choose this important career.
See also:  What is an Instructional Coach?
Top 10 Best Online Master of Arts in Teaching Degree Programs
Do Increased Teacher Salaries Mean More Learning? (Infographic)
Then vs. Now: How Technology In Schools Has Changed Over Time (Infographic)
The 10 Coolest Yellow School Busses Ever
Teaching Degree Resources
Master of Arts in Teaching Programs
Master of Arts in Teaching Jobs
Master of Arts in Teaching Careers
Master of Arts in Teaching Salary
Duke University MAT
Master of Arts in Teaching vs. Master of Education
Bard College MAT
University of North Carolina (UNC) MAT
3 Ways School Superintendents Can Motivate Their Staff
FAQ About Teaching Degree and Careers
Shanker Blog
Teacher Tom
Teaching Literacy In The Early Years
The Art of Presentation
The Blue Skunk Blog
The Clever Sheep
The Tempered Radical
The Unquiet Librarian
What Ed Said
About Master of Arts in Teaching Guide
Return to top of page
Copyright © 2023 · Georgia Child Theme on Genesis Framework · WordPress · Log in